While some of our investors are only aware of the retail crowdfunding that we do within the Bulkestate, the truth is that there are several entities within the scope of our operations and there's always quite a lot going on. To reflect more on our current online and offline activities, we've decided to provide regular updates that reflect our activities in the latest month to give more insight and understanding of our daily affairs.
In recent times we've hit some incredible milestones that show just how things have grown over these few years. Up to now we have financed 130 projects on the Bulkestate platform for a total amount of EUR 22,007,835, involving more than 8 thousand investors.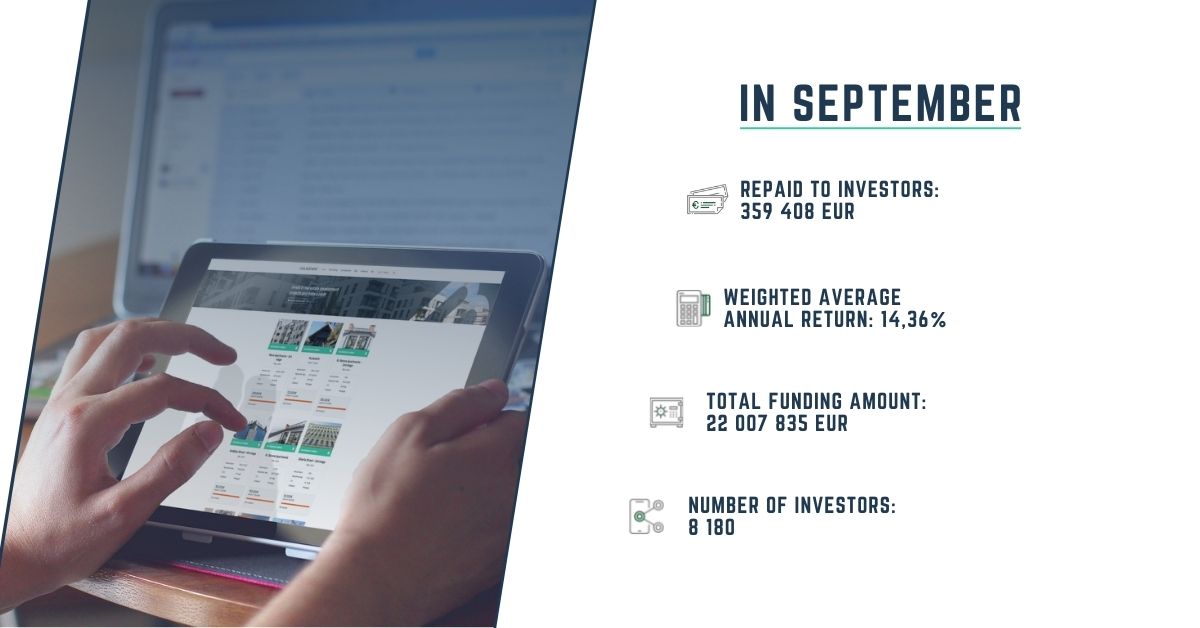 In September alone, we financed 5 different projects for EUR 568 000 in total. The company continues to grow in strength as we continue to disrupt the way that real estate deals are funded. Excitingly, we've got several new things in the pipeline that you'll hear about very soon. We are also preparing for the new EU crowdfunding regulation to be fully ready for the new requirements.
But for the moment, let's run through some of the September updates.
Object Updates
Zeļļu Street. Back in March, we experienced delays due to pandemic restrictions, but we're happy to announce that those have mostly been lifted and we've initiated the process to sign the purchase agreements. We expect to collect funds from the sales very soon and as soon as we do so, we'll start to pay back the loans in chronological order. This will start with the 4th stage and then move onto the 5th stage when that is taken care of. It's important to note that there are still some administrative hold-ups that aren't within our control because we have to register the property with the Land Registry. But we're confident that we'll start seeing some movement soon.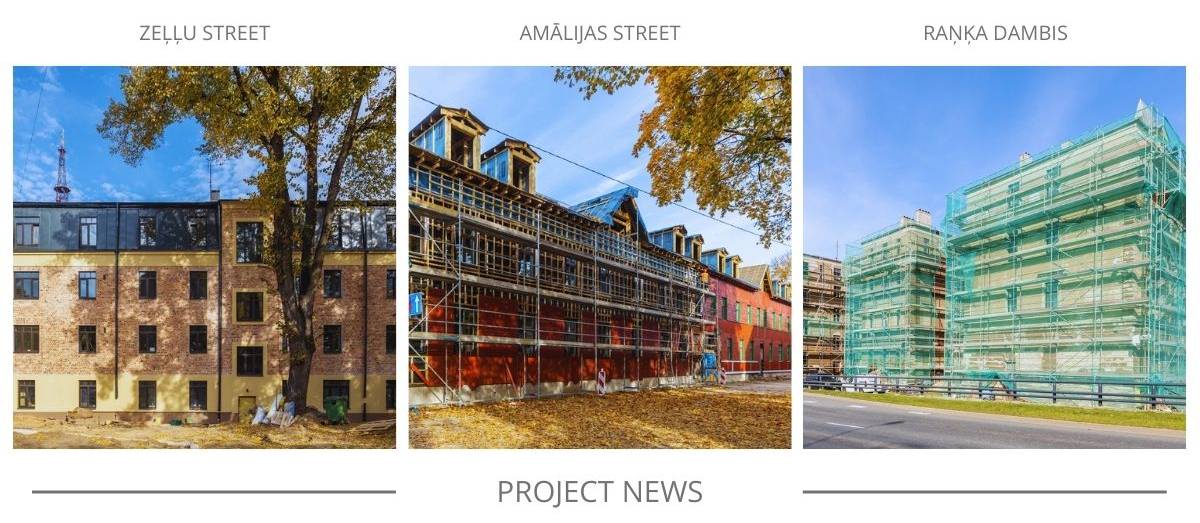 Amālijas Street. This building is in the process of construction and renovation that will eventually result in a completely renovated and rebuilt building, as the construction will add an additional floor.
In the process, the developer has upgraded the initial plans, including an improved courtyard and a playground which will give it all the amenities it needs to attract our desired target market. Since our last update, we've seen good progress on all these pieces, and the new electricity grid and sewage system was completed. In addition, a frame of the new floor has been built and the old roofing has been completely removed. Next up is the window installation, new roof construction, and completion of the façade.
There is also a heating system project that should be done in around 3-4 months. Construction roars ahead here and we look forward to seeing what the final project is going to deliver.
Although the construction is still ongoing, the borrower has initiated the apartment reservation. In a short time, early reservations for 8 apartments have been already registered and the interest from buyers remain high.
Raņķa Dambis. We financed this back in August and the property has now been fully acquired. Measurements and first plans are complete, and preparation work for the façade renovation has started thanks to our valued partners and suppliers. The project of façade has been prepared by one of the most renowned and rewarded architecture designers in Latvia, Dita Lapiņa, while the works are carried out by "Fasāde Pro", one of the most experienced construction company in Latvia.
We're planning the next stage of financing for October with the usual minimum investment of EUR 50 – so keep an eye out for that. This is one project that you don't want to miss out on.
More detailed information on each of these objects can be found in the forum section.
New Objects
In September, we financed 5 new objects, each of which we are very excited about:
Miera Apartments in Latvia. (4th Stage)
Kr. Barona Apartments in Latvia. (4th Stage)
Alberta Street in Latvia. (3rd Stage)
Aroniju Street II in Latvia.
Urttilantie in Finland.
It's worth expanding a bit on the Finnish deal because it represents the third object that we've financed on our platform to date (after Ruokolahti and Kustaantie). We have significantly strengthened our operations in Finland, and we have several new projects there that are in the pipeline. We're expecting to see a lot of expansion into that region in the future.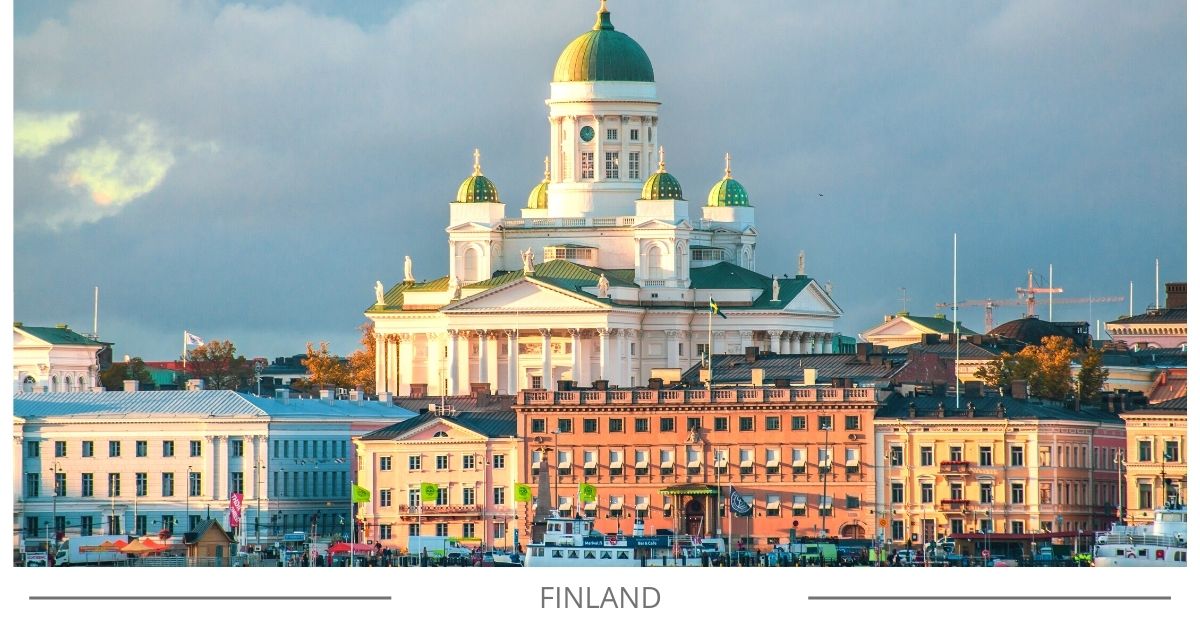 Offline Objects
In two of our previous blogs 'Going Bigger' and 'What's Next for Raņķa Dambis', we spoke about some of our work with offline investors and deals that are not made available on the platform. These deals remain closed and not available for investment, but to be more transparent, we want to update you about the projects that we are undertaking in that context.
Our latest project is located in Riga, Stabu Street which we acquired in cooperation with our offline investors for a price lower than its market value and in good condition, so the renovation required isn't extensive. Across the 3,520 m2 area, the plans are to renovate the façade, staircase area, cable infrastructure, and the surrounding area – and then it should be ready to sell on. We don't expect this to take any longer than 12 months and we're confident that a property in such a good area, with generously-sized apartments will do quite well in the marketplace.
We bring this up to illustrate our deep ties to the property networks in our team's expertise, where we're always doing what we can to bring you the best deals possible.
Summary
So, there you have it. These are the company updates for September. As you can see, there are a lot of exciting things going on and we're not slowing down at all. In fact, we're expecting a very busy run-in to the end of the year, so if you're looking for new investment opportunities, be sure to watch this space.
As always, if you have any questions or if we can help in any way – please do reach out. But otherwise, we hope that you are doing well and that you're finding value in the Bulkestate offering.
Besides, on December 12th Bulkestate will mark a milestone of 5 years in business and this has been such a rewarding journey so far. We'd like to think that this is only a beginning and be sure that we are preparing some exciting birthday offers for our investors again. More details will follow in the next monthly update, so stay tuned!
Sign up for our newsletter and latest news